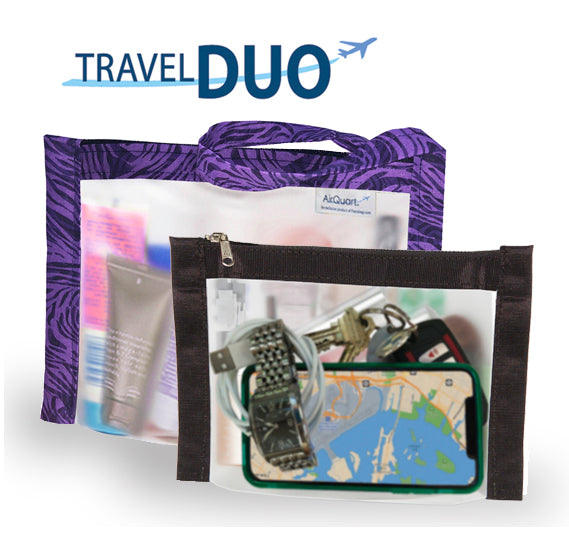 Details


for Travel Day . . . or Every Day  
Stay organized with this 2-bag combo
1. AirQuart® Travel Bag.  The TSA-compliant quart-sized bag that's changing the way travelers pack for airport security.  It's the smart way to carry liquids and gels through the TSA checkpoint.
    * Integrated wrist strap for grab-and-go convenience
    * Gusseted bottom stands up for easy packing.
    * Wide bag opening makes it easy to use.
    * Interlocking zipper secures small items.
2. ClearPack® Mini.  Clear vinyl lets you see what's packed inside and it's just the right size to slip into your backpack, briefcase or gym bag.
   * Organize tech accessories--cell phone, charger cable, earbuds
   * Pack all the makeup you'll need to make it through you day.  
Outside Dimensions:
AirQuart -- 7" x 9.5" plus 1" gusset
ClearPack Mini -- 5.5" x 8" plus 1" gusset
Exclusive products of Flanabags LLC.
Designed and manufactured in the U.S.A.

Trademark Notice: The integrated wrist strap is protected under U.S. Patent and Trademark Registration No. 4,277,479. AirQuart and Flanabags are registered trademarks of Flanabags LLC.