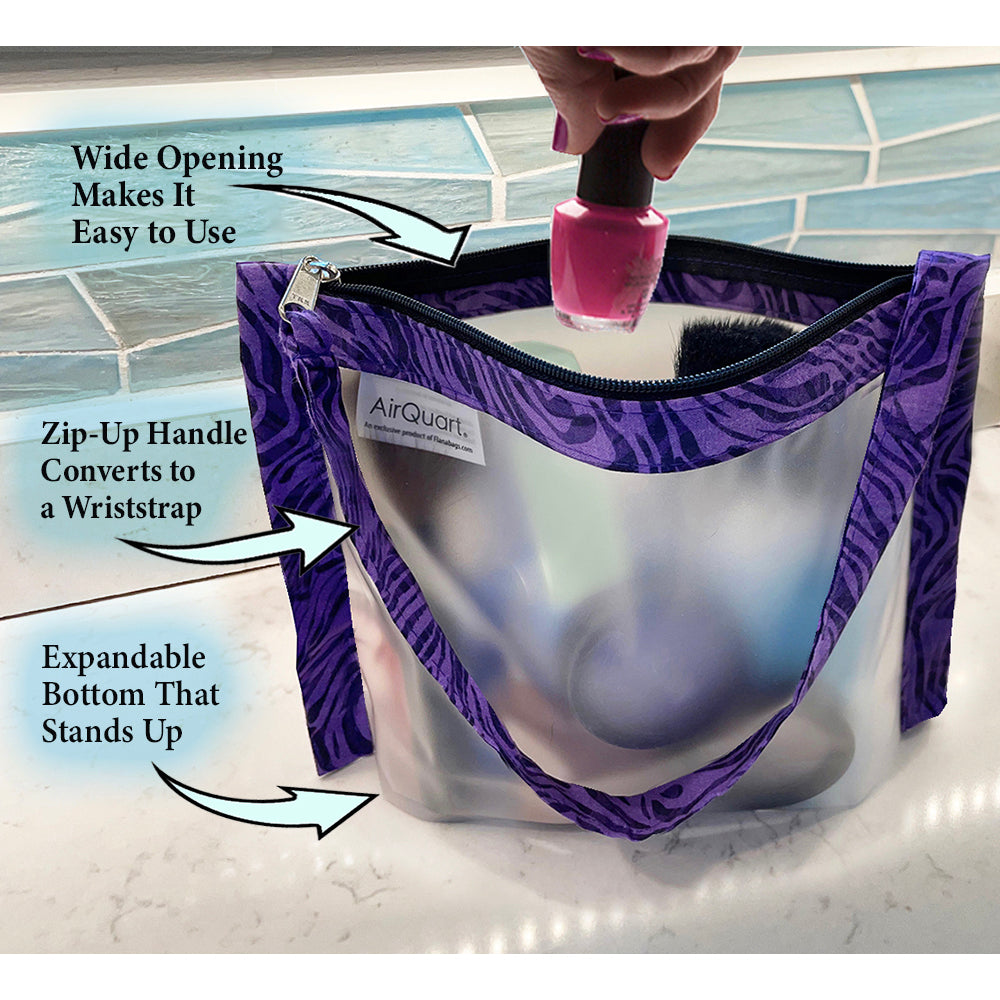 Details
Your new carry-on companion:  AirQuart travel bag, the smart way to carry liquids and gels through airport security. Say goodbye to plastic freezer bags. AirQuart is the quart-sized bag that's fresh, fun and functional.
TSA Compliant!

Eco-friendly, durable and reusable
Fashion-forward colorful trim to show your personal style
Slim silhouette slips inside your purse or carry-on
Integrated wrist strap for grab-and-go convenience
Interlocking zipper safely secures small items
Stands up on its bottom gusset for easy packing
Folds flat when empty
Wide bag opening makes it easy to use
TSA-Pre?  There are still so many reasons you need AirQuart travel bag. 
Ewww!  WHAT'S in your SEATBACK POCKET?
Use AirQuart as a pocket liner to protect your personal items:
Phone, glasses, e-reader, pen, etc.
 For solid color options, visit the "Travel Bags for MEN" page.
Hang up AirQuart inside the aircraft lavatory.
Now THAT'S ingenious!
AirQuart's trademarked wrist strap converts to a handle for easy hanging onboard your flight or in your hotel room.
More than 90,000 travelers
use AirQuart travel bag to carry liquids and gels.
Accepted Around the World! AirQuart fully complies with U.S. regulations as well as the one-liter requirement in Europe, Asia, Australia.
Inside Dimensions: 8" wide  x  6.5" tall PLUS 1" bottom gusset
Outside Dimensions, folded flat:  10" wide x 7" tall
Capacity: One Quart (0.95 Liters) 

Trademark Notice: The integrated wrist strap is protected under U.S. Patent and Trademark Registration No. 4,277,479. AirQuart and Flanabags are registered trademarks of Flanabags LLC.